Heat resistance
suitable for use environment and application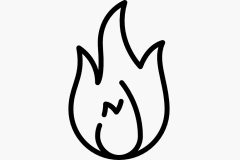 The base polymers of all PBI Advanced Materials products are called high performance plastics and have good heat resistance.
When you use plastic materials on high temperature conditions, you should consider long-term heat resistance and short-term heat resistance depending on each application.
Long-term heat resistance
Long-term aging of plastics under high temperature largely affects decomposition and degradation, at that time, the properties of materials are deteriorated. That highly depends on the base polymers property because the decomposition, degradation, and deterioration are caused by chemical reaction of base polymers.
In general, relative thermal index (RTI) as UL 746B is useful to judge the long-term heat resistance of base polymers. RTI is the temperature which makes the polymer properties half when the polymer is exposed for 100,000 hours.
Short-term heat resistance
Long-term heat resistance is based on chemical stability under no load, and short-term heat resistance is based on physical stability––Plastics become soft, deformed, and broken in high temperature conditions. Short-term heat resistance depends on not only base polymers but also fillers which is able to prevent the polymer deformation and breaking.
Heat deflection temperature (HDT) can be referred to the index of short-term heat resistance. HDT shows the temperature in which the materials deflect under load.
Glass transition temperature (Tg) and crystalline melting temperature (Tm) are also helpful index of materials thermal properties.
Amorphous polymers become soft at Tg and over (changes of the phase from glass to rubber) and crystalline polymers melt at Tm and over (changes of the phase from solid to liquid).
The following table shows the thermal properties of polymers PBI Advanced Materials uses.
Thermal property of base polymers
PBi Shapes