Compression molding,
extrusion molding, and injection molding
PBI Advanced Materials supplies stock shapes made by compression molding: PBI Method, extrusion molding, and injection molding.
icon-caret-square-o-right Compression molding: SCM series
icon-caret-square-o-right Extrusion molding: SEM series
icon-caret-square-o-right Injection molding: SPR series
Compression molding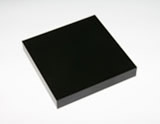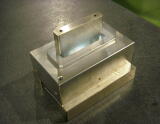 Compression molding is one of the oldest method for thermosetting plastics.
It is not possible to make PBI stock shapes by injection or extrusion molding because the fluidity of PBI is little. Therefore, PBI Advanced Materials modified compression molding procedure to optimize for PBI production and established the special method: PBI Method.
The advantage of PBI Method is low residual stress and low warpage. To take the advantages, PBI Advanced Materials has applied this PBI Method to not only PBI but also other high performance plastics, e.g., polyimide (PI), thermoplastic polyimide (TPI), polyetheretherketone (PEEK), and so on.
PBI Method
PBI Method is a unique compression molding technology developed and patented by Sato Group.
PBI Method is different from a well-known compression molding procedure on which articles are pressed at room temperature and then sintered in a furnace, which is normally allied to PTFE etc. On PBI Method, articles are systematically pressed and heated in a mold and then gradually cooled. PBI Method can easily control degassing through molding process. Therefore, PBI Method can prevent voids in the articles.
Advantages of compression molding
Low warpage
Low anisotropy
Small lot production
Large ring production
Extrusion molding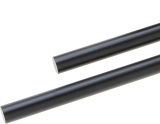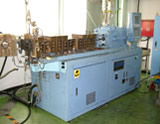 Extrusion molding is a method that melted resins are extruded and shaped to specific figures through a die. Then, all cross section of the molded plastics shows the same shape as the die. Extrusion molding is classified to some of types, and the most popular type is to melt the plastics by heater and to extrude the melted plastics by screw.
Extrusion molding is suitable for mass production and large size materials production because it is continuous production and possible to reduce the production cost.
Advantages of extrusion molding
Mass production with low cost
Large size production
Injection molding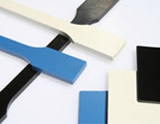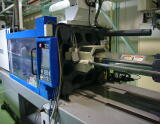 Injection molding is one of the major molding method of plastics. A melted resin is injected to a mold and turned to solid phase in the mold. Injection molding can apply to the molding of complicated shape, so that it is possible to mold the final parts directly.
PBI Advanced Materials makes some of stock shapes by injection molding to reduce the production cost.
Advantages of injection molding
Mass production with low cost
Stable quality