Development and customization
of materials with excellent wear resistance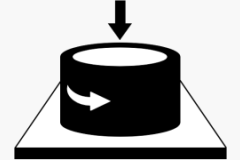 PBI Advanced Materials dedicates efforts to development of wear resistance materials. PBI Advanced Materials can also customize the materials for each customer.
The best composition for tribological materials is not the only one because wear resistance largely depends on the using environments. Therefore, we have to consider the composition in each case.
When the condition is high speed and/or high pressure, the base polymer should be high Tg/Tm material. If low Tm material is used for the base polymer, it will be melting by the friction heat. Also, when the counter material is no so hard, hard filler cannot be used because hard filler attack to counter material and expedite the wear of counter material.
It is not easy to evaluate tribological properties. The test results are largely different by test condition, e.g., test mode, surface roughness, counter material, temperature, load, atmosphere, and so on. If you would like to evaluate wear resistance, you should select the most suitable conditions for your application.
Some sample of wear test results are shown in the following figures.
Evaluation of sliding wear test
Test condition (Ring on Ring)

Test piece:               Ring
Counter material:  S45C Ring
Temperature:         25–350°C
Load:                        300 N
Speed:                      0.5 m/s
Distance:                     3 km
Lubricant:                non

 
Test condition (Ring on Plate)

Test piece:               Plate
Counter material:  S45C Ring
Temperature:         25°C
Load:                       50 N
Speed:                     0.2 m/s
Distance:                10 km
Lubricant:              non
PBi Shapes